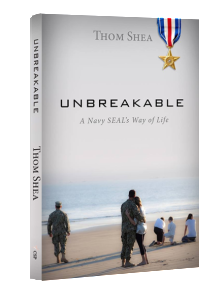 UNBREAKABLE Book Launch Event!
Join us for the dynamic inaugural book launch for Thom Shea's UNBREAKABLE! Meet Thom, hear him speak, and learn how you can become UNBREAKABLE.
Get it First, Read it First, Review it First
In UNBREAKABLE, Thom Shea, a highly decorated Navy SEAL, shares his years of combat experiences in Afghanistan. His stories, while adventurous and entertaining, provide incredible insights, sure to shift your view of yourself and provoke life-altering change. Originally meant to be a memoir for his children in case he didn't survive deployment and could not return home to them, Unbreakable has a powerful set of lessons for anyone striving to break through the barriers of human performance.
"I'm a raving fan of UNBREAKABLE. It not only is a powerful story of an amazing human being and his 25 years as a Navy SEAL, but it also provides a powerful self-development tool. Let Thom Shea teach you about internal dialogue-what you say to yourself about who you are-and how managing that dialogue can increase your goal achievement and effectiveness in life." 
– Ken Blanchard, Coauthor of The One Minute Manager ® and Leading at a Higher Level
Available To The Public May 26, 2014
Book Launch Event Details
Poinsett Club, 807 East Washington Street, Greenville, SC  29601
Tuesday, May 13, 2014
5:30 – 6:30:  Check-in and Cocktail Hour/Reception
6:30 – 7:00:  Patrons enter Ballroom and find seat(s)
7:00- 8:00:  Dinner
8:00:  Thom's Presentation

Introduction by Congressman Trey Gowdy

8:30:  Opportunity to have books personalized by Thom
Available Packages
$300 Individual Seat Package: (7 seats available) (the other three seats at this 10-top are for Thom, Stacy & Trey)

Private Cocktail Reception with Thom Shea, premium seating at Thom Shea's TRIDENT table (dinner with Thom & Stacy Shea, and Trey Gowdy), dinner with paired wine, presentation by Thom, one signed book (option to stand in

FRONT of the line

to get the book personalized at the end of the evening)
$30 Donation to Landon Jones Memorial Trust
$200 Individual Seat Package: (60 seats available)

Private Cocktail Reception with Thom Shea, premium seating at one of the EAGLE tables closet to the stage, dinner with paired wine, presentation by Thom, one signed book (option to stand in

FRONT of the line

to get the book personalized at the end of the evening)
$20 Donation to Landon Jones Memorial Trust
$100 Individual Seat Package: (230 seats available)
Cocktail hour, open seating dinner at one of the ANCHOR Tables (tables 8 – 30) with paired wines, presentation by Thom, one signed book (option to stand in line to get the book personalized at the end of the evening)

$10 Donation to Landon Jones Memorial Trust

Click Here To Read The Jones Family Story